The Christmas season gives every homeowner the chance to transform their residence into an incredible winter wonderland for guests and families.  From icicled Christmas lights to snowfall garlands and fun family holiday activities, enjoy transforming your home into a memorable winter wonderland themed festivity!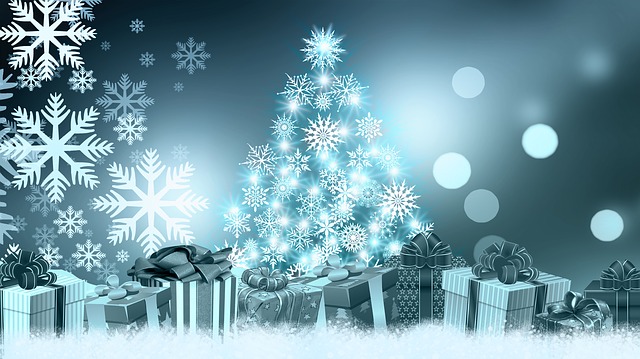 A Little Bit of Sparkle and Ice
Change your Christmas décor from blah to oo-la-la with inventive decorations. Some of the trending holiday decorating ideas this year incorporate lights, sparkles, and glittery wintery magic. Create a luxurious centerpiece using snowy candles and surround with delicious homemade Christmas treats. Take a large blue and gray pillar candle and Mod Podge it with Epsom salts. Let the candles dry and then add sprigs of evergreen to a clear tray. Sheer beauty. Use the same idea to coat handmade icicles made of tightly twisted aluminum foil. You can use Epsom salt with adhesive spray to decorate tree branches with glittery "snow". Mix and match glasses and dinnerware to match the wintery theme.
Snowflake Wonder
If you have many little ones, a holiday get together becomes a little bit more fun when everyone decorates together. Making paper snowflakes together for decorating can be a fun activity. Just take white cardstock (even better if it is sparkly or silver) and cut into big squares by trimming off one edge. Fold the squares in half a couple of times and start cutting out tiny shapes, the corners, etc. When you open up the paper, enjoy the beautifully unique snowflake! You can make these in many shapes and sizes. Use them as Christmas decorations, hang dozens from the ceiling with clear string, or tape them to windows for festive cheer.
Let It Glow (With Lights!)
Never underestimate the beauty of candles or strings of lights. Whether you are threading icicle lights on your balcony or decorating your home with the soft warm glow of candles, light can truly add winter wonderland sparkle! Be creative with the lights by threading them into familiar shapes like Christmas trees or the Star of Bethlehem. Create festive ambience with Christmas-scented candles which come in a variety of scents like candy cane and gingerbread spice. Hang long strands of lights in fun shapes from doorways to add sparkle to entryways.
Don't forget to decorate both inside and outside. Outside you can use lights to decorate foliage. Combine blue and white lights for a North Pole feel. Line doorframes and windows with small lights. Add a faux snowman family outside your door as Christmas greeters this season and play holiday music to welcome each guest.
Delicious Treats
Make delicious edible frostbites by coating large marshmallows in blue melted chocolate. Add a stick and dip each one in sparkly blue sugar for delicious winter treats. Fill pitchers with blue lemonade and ice cubes for a refreshing treat. Make easy Jell-O blocks by making blue Jell-O cubes and tossing in the freezer for a couple of hours. Serve in crystal bowls. Finally, for a nutritious treat, fill blue cups with Greek yogurt. Add pretzels, chocolate chips, a mini-carrot, and sugar eyeballs (found in the baking section). Add a sign that says "melted snowman" and enjoy!
Tiny Trees
If you want to add a little bit of Christmas cheer to each room, try making tiny trees using real or fake evergreen branches. Or you can purchase relatively inexpensive tiny trees from the store. Decorate them with ornaments unique to each room. If you have kids, let them choose what ornaments and color each tree will be. Each tiny tree can have a special sweet treat underneath for extra holiday fun!
Enjoy decorating your home. Give your guests and family the treat of their very own winter wonderland party this year!