Excessive accumulation of fat in the body is obesity to reduce it excessive of calories has to burn out. Obesity is of great concern because it makes a person susceptible to various health issue like Diabetes, High blood pressure, heart disease and others.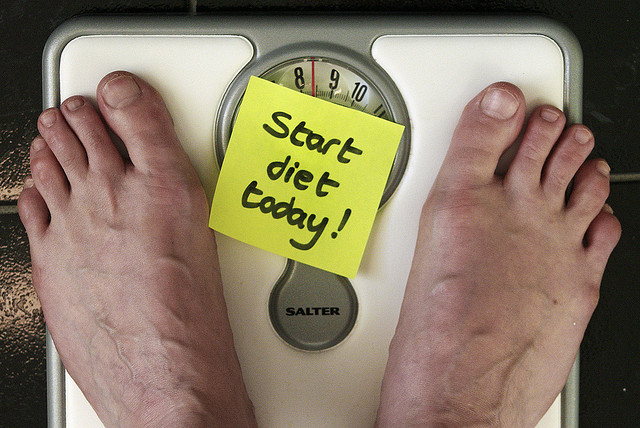 Image Source : Flickr
Obesity is determine by measuring person's Body Mass Index (BMI). If a person BMI is more than 30 is considered as obese. So it is important to adopt a healthy life style. Some of home remedies are easy to do at home and beneficial in reducing weight.
Causes of Over Weight

Lack of physical activity
Lack of sleep
Hereditary
Hormonal imbalance
Poor lifestyle
Overeating
Eating junk foods
Consuming high calorie food
Stress,tension and depression
Certain medications
Sedentary lifestyle
Natural H
ome Remedies to Lose Weight Quickly
1. Honey and lemon juice
Lemon improves digestion and help in removing toxins from your body that slows down your metabolism.Healthy digestion is an essential for weight loss as it helps your body get the nutrients required to burn fat.
Mix a tsp of honey in a glass of warm water with a tsp of lemon juice.Drink it daily in an empty stomach.
In the above mixture one can add a pinch of black pepper in it.
2. Aloe vera
Aloe vera is helpful in reducing weight.Aloe vera increases energy consumption and mobilizes unused fat in the body.It helps in removing toxins from the digestive system and colon.Aloe vera contains natural collagen proteins that makes the body work harder in order to absorb the proteins.
Peel out the aloe vera leaves and extract the pulp from it ,now add lemon juice or orange juice in it .Blend it properly and drink it daily at least for a month.
or
Extract the juice from aloe vera leaves by blending the pulp of aloe vera. Mix it with amla juice ,a tsp of honey for taste.Drink it daily.
3. Green tea
A compound is present in the green tea known as epigallocatechin-3-gallate,it helps in slow down weight gain by limiting fat absorption and increasing the body's ability to use fat.
Green tea is a rich source of minerals like zinc,selenium,chromium and antioxidant ,vitamin C.
Drink 3 -4 cups of the green tea daily to reduce weight. One can also add ginger or lemon juice in it for taste.
4. Fennel
Fennel has a diuretic properties because of this property body quickly reduces weight.Diuretics helps in reducing water retention in the body.Fennel also helps in digestion and give relief in the constipation and abdominal gas.
Roast and grind the fennel ,sieve it.Take at least one half tsp of this powder daily twice times in a day with warm water.
or
Drink fennel tea daily before meals.
5. Cinnamon
Cinnamon in your diet will improve metabolism,increase energy,detoxify body.It helps in avoiding overeating by fighting insulin resistance and also reduces oxidative stress associated with metabolism.
Put one half tsp of cinnamon powder in a cup of boiling water and cover it for 30 minutes.Now drink it in the morning empty stomach daily and about half an hour before breakfast.
6. Cabbage
Cabbage is a rich source of the vitamin C ,high fiber.It contains tartaric acid that inhibits the conversion of sugar and carbohydrates into fat.
It contains phytochemicals that helps in improving the imbalance of estrogen metabolism that only causes your body to store fat but also promotes breast cancer,ovarian cancer.
Eat cabbage everyday in any form.
7. Tomatoes
Tomatoes are rich source of the dietary fiber ,vitamin A,C,K and other minerals.Tomatoes are good for health they are packed with antioxidants.It contains a compound that tend to alter the levels of hormones that affect your appetite
Eat tomatoes everyday with peel and seeds in the morning.
8. Apple cider vinegar
Apple cider vinegar helps in preventing accumulation of fat in the body and protect against obesity.
Mix 2 tsp of apple cider vinegar in a glass of water and drink it daily in the morning before meals.
or
Mix a tsp of apple cider vinegar with a tsp of lemon juice in a glass of water and drink it daily.
9. Papaya
Papaya contains a compound which acts as a laxatives and helps in removing gastric problems.Papaya also helps in reducing weight.
Eat papaya daily it has fiber too.
Home remedies are low cost remedies and less time consuming, it can performed at home and one can achieve the target to reduce weight.